Get back to growth with the world's #1 CRM, powered by Customer 360.
Pine Labs uses Salesforce Customer 360 to improve merchant life cycle management and merchant experience.
What's new at Salesforce?
CUSTOMER STORY
Asirvad Microfinance builds customer trust with Salesforce
RESEARCH
Customer service has changed forever. Discover how in the fourth State of Service report
BLOG
Digital: The New Fuel for Growth in the Indian Automotive Industry
Learn what Salesforce can do for you.
What is CRM
CRM stands for "customer relationship management" and it's software that stores customer contact information like names, addresses, and phone numbers, as well as keeps track of customer activity like website visits, phone calls, email, and more.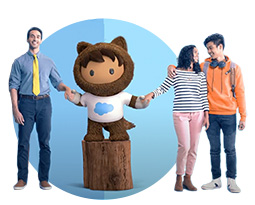 What is Salesforce
Salesforce is a customer relationship management solution that brings companies and customers together. It's one integrated CRM platform that gives all your departments — including marketing, sales, commerce, and service — a single, shared view of every customer.
Grow your small business
Insights from 2300+ small business leaders in the Small Business Trends Report 2020.
Here's how Salesforce can benefit your business
World's #1 CRM
Integrated platform, AI, app development, best in class apps
Single Source of Truth
Connect sales, service, marketing, commerce, and IT, personalise experiences
Fast Time to Value
Ease of design and implementation at speed with high ROI
Scalable and Flexible
Solutions for any size company or industry
Trailblazer Success and Community
99% of customers say they met or exceeded ROI expectations